(ulasan bahasa Indonesia di bawah)
This is surely the week of 2800. First Anish Giri achieved in from a win against Peter Svidler in FIDE Grandprix Tblisi 2015. He become the ninth person on the planet to ever passed chess rating of 2800. A day later, US chess player as we known, Hikaru Nakamura made it look easy to get 2800 by defeating Sergey Karjakin in round 3 Zurich Chess Challenge 2015.
We are not only celebrating 10 players that ever cross this mark, but I think, this is also the only week where we have five chess players with 2800 elo in live rating. Check chess live rating, February 17th 2015:
List of best rating ever by chess player: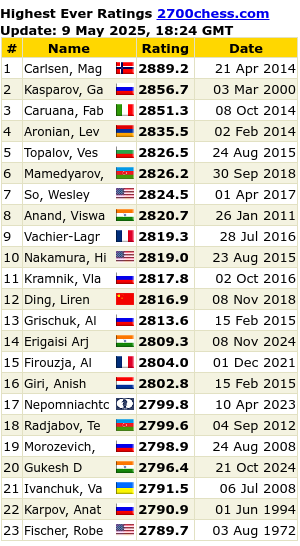 Zurich Chess Challenge are on going, after 3 rounds, Hikaru Nakamura stayed on top standing. He is on the top form, continuity from Gibraltar 2015, get 2.5/3, with Vishy Anand on 2/3. In round 3 Hikaru defeated Sergey Karjakin in an opening battle, where the line should have been drawn, but Karjakin just simply forget the theory. Previously, Aronian also fell into opening preparation by Anand.
On other note, Viktor "Terrible" Korchnoi and Wolfgang Ulhmann played inspiring chess with 100% decisive results. Four rounds of rapid play being held, and the score is 2-2, both player won 2 games.
In FIDE Grandprix Tblisi 2015, it's still early to see who exception in this 12 players event. Tomashevsky, Grischuk and Anish Giri are players with 1.5/2.
pecatur top lagi menikmati musik gitar di Zurich 2015
Dua turnamen catur kelas dunia sedang berlangsung di minggu ke-3 Februari 2015 ini. Pertama adalah turnamen super kuat di Swiss bernama Zurich Chess Challenge. Dengan enam pemain super kuat, Anand, Nakamura, Kramnik, Caruana, Karjakin dan Aronian, turnamen ini hanya bisa dibilang kurang Carlsen saja. Di turnamen ini Hikaru Nakamura menembus rating catur 2800 setelah mengalahkan pecatur Rusia Sergey Karjakin. DI partai catur pembukaan Inggris ini, Nakamura memperlihatkan bahwa dia juga mengerti pembukaan catur secara mendalam dengan menjalankan langkah-langkah teori dengan akurat. Cukup seru karena line yang dijalankan sebenarnya sudah diketahui jawabannya, dan mengarah ke remis. Sayangnya, seperti di twiter oleh Karjakin, dia lupa dengan urutan dan harus masuk ke medan pertempuran yang gelap dan ganas dengan buah buah catur bertebaran. Walaupun putih nampak dijepit hingga harus mengungsi ke petak a2, namun teorinya di line ini, putih punya inisiatif dan material yang cukup untuk menang. Hingga ronde 3, Nakamura kembali memimpin klasemen. Ini adalah moment di mana Nakamura sedang "on", setelah dengan mudah memenangkan open turnamen di Gibraltar awal bulan ini.
Standing after round 3, Zurich Chess Challenge 2015:
1. Hikaru Nakamura - 2.5
2. Vishwanathan Anand - 2
3. Vladimir Kramnik - 1.5
4. Levon Aronian - 1
5. Fabiano Caruana - 1
6. Sergey Karjakin - 1
Di turnamen ini, dua pecatur gaek jadul era '70an juga ikutan berlaga. Grandmaster kawakan Viktor "Terrible" Korchnoi berhadapan dengan musuh jadulnya, grandmaster Wolfgang Ulhmann. Keduanya bermain di catur cepat 4 babak dan berakhir cukup happy ending, masing-masing menang 2 kali. Score 2-2 untuk laga catur jadul ini.
Lihat partai catur
Hikaru Nakamura vs Sergey Karjakin, 1-0
, Zurich round 3 2015
Pembukaan Inggris / English Opening
Di turnamen lainnya, yaitu FIDE Grand Prix di kota Tbilisi, Georgia, dua belas pecatur terjun untuk merebut juara grand prix sekaligus tiket untuk tampil di turnamen kandidat catur. Anish Giri membuat berita utama dengan menjadi pemain ke-9 yang meraih live rating 2800, sehari sebelum Hikaru Nakamura menjadi orang ke-10 dalam hal ini. Anish Giri mengalahkan Peter Svidler dengan buah hitam. Selanjutnya hingga ronde 2, hanya tiga pecatur yang memperoleh point 1.5, Anish Giri, Alexander Grischuk dan Evgeny Tomashevsky. Turnamen Grandprix ini akan berlangsung 11 ronde.
Standing after round 2, FIDE Grand Prix 2015 Tbilisi:
1. Grischuk Alexander 2810 RUS 1½
2. Tomashevsky Evgeny 2716 RUS 1½
3. Giri Anish 2797 NED 1½
4. Kasimdzhanov Rustam 2705 UZB 1
5. Mamedyarov Shakhriyar 2759 AZE 1
6. Andreikin Dmitry 2737 RUS 1
7. Jakovenko Dmitry 2733 RUS 1
8. Dominguez Perez Leinier 2726 CUB 1
9. Radjabov Teimour 2731 AZE 1
10. Vachier-Lagrave Maxime 2775 FRA ½
11. Svidler Peter 2739 RUS ½
12. Jobava Baadur 2696 GEO ½
Partai Catur
Peter Svidler vs Anish Giri, 0-1
, Grand Prix Tbilisi 2015
Pembukaan Reti / Gambit Menteri Ditolak